Sparking kids' interest in science involves the occasional trip to the grocery store to buy cow liver.
That's what bioengineering doctoral student Colleen O'Connor has learned in her three years of putting on science demonstrations for Seattle youth. The reason O'Connor is eager to top a day studying liver tissue in a lab with one pouring red dye over cow liver for a group of excitable elementary-aged kids is because she wants to increase people's interest in science, especially young students who have different backgrounds from the majority of people in the field.
"Something I've always been interested in has been reaching young women and students of different backgrounds and showing anyone can get into STEM and engineering," O'Connor said. "It's not just for boys."
O'Connor works in the Stevens Lab in South Lake Union, run by UW Assistant Professor Kelly Stevens, where she studies the regeneration and function of the liver. As the concept of 3-D printing human organs has become a major topic of research, scientists like O'Connor have been trying to figure out how to help these organs function by connecting them with complex networks of vessels that will bring them the blood and oxygen they need to survive.
To study this, O'Connor uses a bioprinter to make small shapes from hydrogel, a substance that looks like Jell-O. The shapes have many wells inside so that researchers can fill them with cells and other materials and then put them inside a mouse to see how the tissues grow in the complex environment of an animal. Think of it as a more relevant way of studying cells than simply observing them in a petri dish sitting on a benchtop — an environment very different from the inside of a human body.
But how do you explain bioprinted tissue constructs and liver regeneration to children (much less adults not studying bioengineering)? Well, if she's not using cow liver, O'Connor uses the bioprinter to produce familiar shapes, like pyramids or the Eiffel Tower, which generates excitement for 3-D printing. "If we wanted to print a human organ instead," O'Connor says to the young students, "It's going to need blood to survive. How can we engineer channels to supply the organs with that blood?"
She knows she's explaining it right when she can hear the kids' enthusiasm.
"It sounds really corny, but if you're giving a demo and you hear the kids go "Wow!" it's the best feeling because you're always worried, 'Is this boring? Am I relating?'" O'Connor said.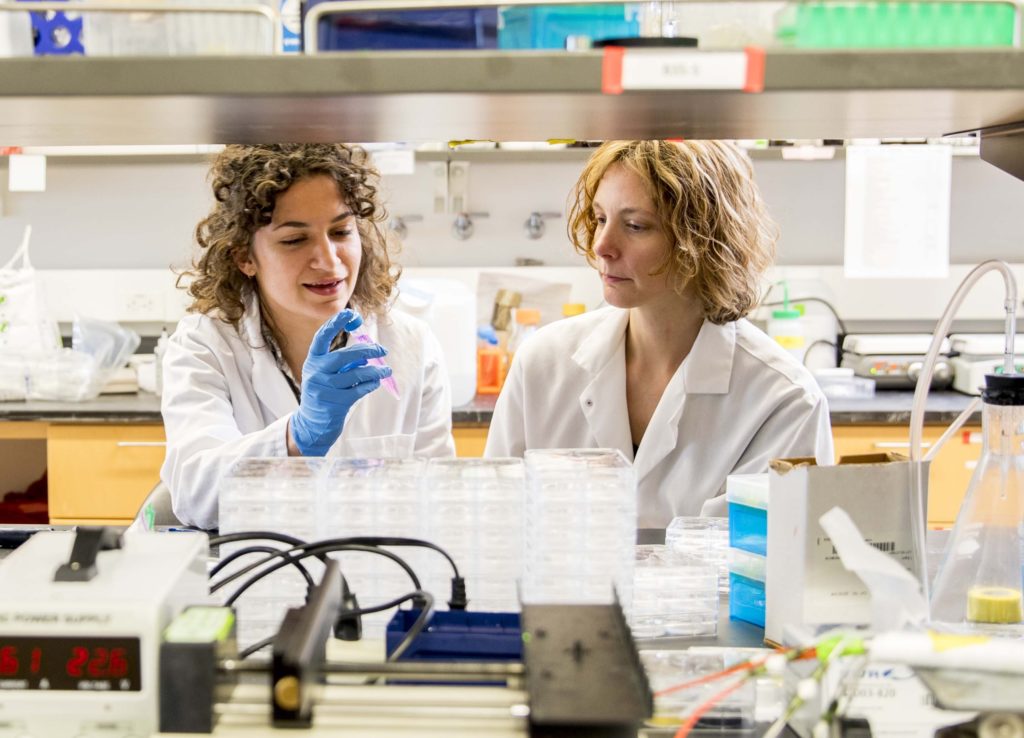 Another good feeling is when middle schoolers and high schoolers ask O'Connor and her lab mates how they got into bioengineering and how they could become scientists, too.
For O'Connor, that story starts in her first year as an undergraduate student at the University of Texas at Austin. She attended a talk there by Nicholas Peppas, a professor of chemical engineering, on the challenges of administering insulin for people with diabetes. At the time, O'Connor's grandfather had been recently diagnosed with diabetes, so the topic was close to home. After the talk, she sent an email to Peppas saying she was interested in being a part of this work. A few months later, she was working in the lab alongside a graduate student mentor.
She didn't know much about bioengineering (or biomedical engineering, as her undergraduate school called it) when she signed up for her major. She just knew she like math and physics and that biomedical engineering sounded cool. It wasn't until later that she realized the diversity of subjects she could study within the field. Similarly, with the children she works with, O'Connor doesn't need them to immediately understand everything about the work she does: she just wants to inspire them to love science enough to see themselves working in the field.
But as a female and Hispanic, O'Connor knows it's also important not just to encourage kids to go into STEM, but for the young students to see people who look like them represented in roles of leadership.
"Anybody can go and say, 'Invite these students to come learn!' but until they come and see themselves as the boss, as the PI, as the graduate students, it's hard to recruit and retain," O'Connor said. "Because if you don't see yourself there, you're not going to believe it or be enticed or encouraged to go."
A big draw for O'Connor to Steven's lab was that a young woman was the principal investigator — not a common case in major science labs. And as O'Connor would find out, Stevens was just as passionate about teaching students in the community about science, whether that's by opening the lab so students can see the bioprinter, or by bringing demonstration materials to events around Seattle. Stevens' attitude around this is infectious, O'Connor said, with students inside the lab sharing service opportunities with Stevens and their peers.
Finding the fellowships
O'Connor has already received recognition for her research and outreach through fellowships. She was a UW Graduate School GO-MAP* fellow as well as the recipient of two major fellowships for graduate students, one from the National Science Foundation and the other from the Ford Foundation. Fellowships are a critical part of graduate students' experience — they can help fund anything from research to tuition.
The secret to helping secure a fellowship is being able to tell your story through the personal statement, O'Connor said. One way to help stand out is showing how one's research can impact the community.
"They're not worried about if you're going to get the top papers published or get the top grades," O'Connor said. "It's how are you going to make an impact on the community?"
While O'Connor's lab is dedicated to community outreach, O'Connor said there are many opportunities around Seattle to volunteer. O'Connor participates in Making Connections, a program which partners women graduate students in STEM fields with underserved youth in the Puget Sound-area who have ambitions of attending college. The college students provide mentorship, whether that's encouragement around academics to advice about how to apply for college.
It also takes practice to craft a narrative and statement about research, O'Connor said. The first fellowship she applied for at UW she didn't get, but she expected that as she was just starting to shape her research thesis idea. She applied for the NSF fellowship, but didn't know about the Ford Fellowship until one of her bioengineering mentors mentioned it to her. O'Connor recommends applying for as many fellowships as possible, and conducting as much research on which ones are out there. The Graduate School updates a list of common fellowship opportunities here.
And even if the first or second or third fellowship applications don't generate success, it's important to learn from past mistakes, just like scientists learn from their experiments.
"You're going to keep failing and failing with your experiments. But that's kind of the route of research. After each experiment I feel like it's a creative outlet to see what are we going to do next and how can you build upon that failure to keep progressing. I think that is ultimately a key to success, at least in this field," O'Connor said. "I feel like it's something that the sooner you can come to terms with in grad school, the smoother it's going to be."
Learn more about applying for fellowships
*GO-MAP was the name of a program that is now called GSEE, the Office of Graduate Student Equity & Excellence. Learn more.
By Kate Stringer, UW Graduate School
Originally published April 28, 2020