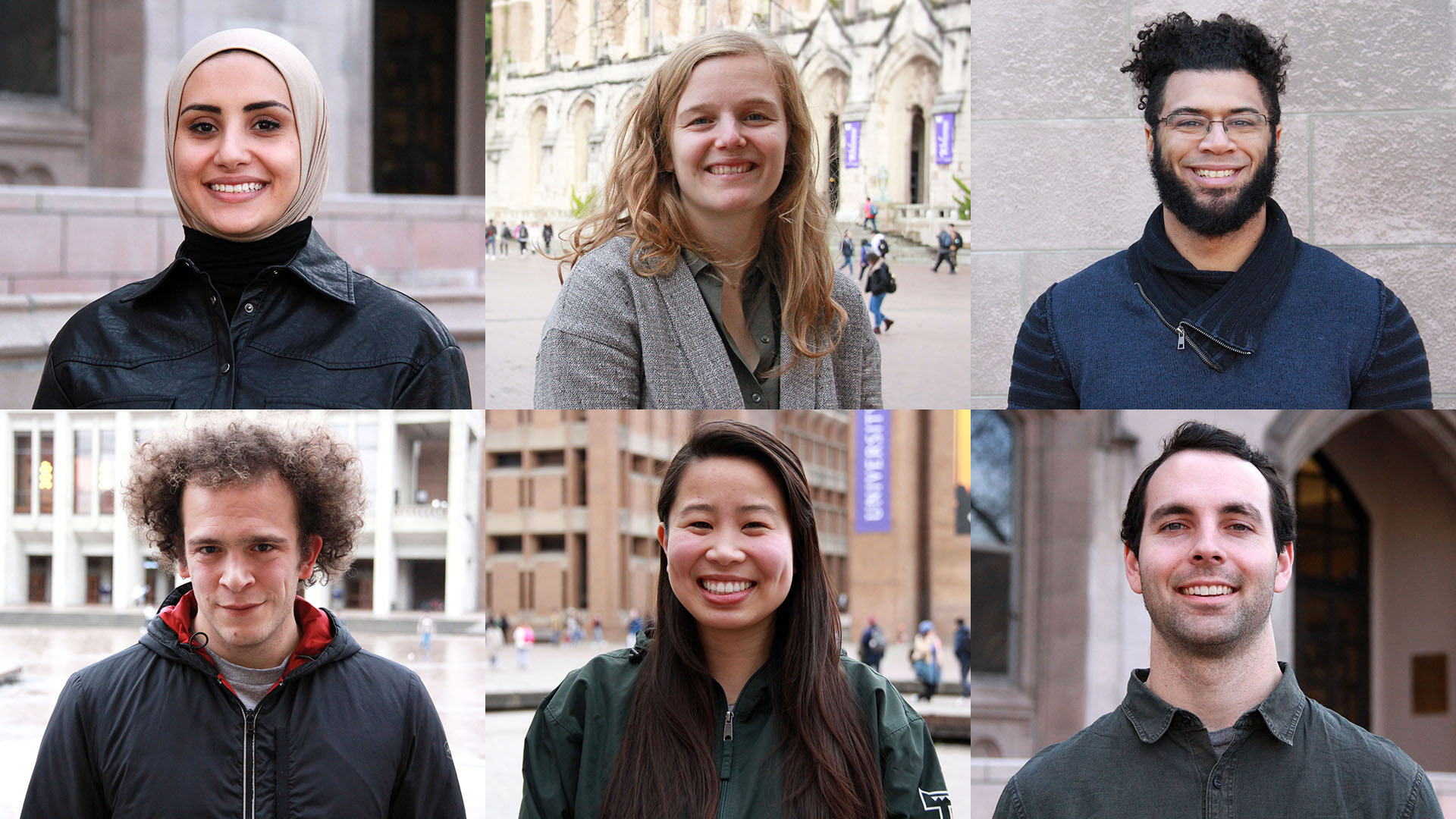 This article references programs that have since been suspended or converted to remote activities. Interviews were conducted in January and February 2020.
As a new immigrant to the U.S., a Muslim, and a woman of color, student Rawan Hasan said it was already easy to feel different when she first stepped onto the University of Washington campus. But she was also a new mother and needed a place to nurse throughout the day as well as pray.
Because of her packed schedule as a master's student of Urban Design and Planning, she did not have time to use the Husky Union Building's lactation and meditation room, which was across campus from the College of Built Environments. So she joined the department's diversity committee where she not only advocated for a lactation and prayers room in the College of Built Environments, but also used her diverse background to make the community a place more supportive of differences among students so that everyone could participate and belong.
"I want to advocate for people who are like me and others who are a minority and don't feel like they fit or belong in a place," Hasan said.
Across campus, students have formed diversity committees within their departments and colleges to help make their studies more inclusive and to start conversations around equity and accessibility. These committees — often made up of faculty and staff as well — have helped change everything from admissions practices to discussions about race and gender in academia. The work is nowhere near easy or perfect or complete, but students have said some of their greatest successes come from creating a community where they can talk about issues, rather than silently facing systemic barriers alone.
Read their stories
Rawan Hasan and Charlie Simpson: Teamwork leads to changes in Urban Design and Planning
Kayla Chui: Education is a move toward liberation
Katie Brennan: Advocating for diversity in STEM
Brian J. Evans: When it comes to diversity, everyone needs to show up
Lucas Vargas Zeppetello: Why climate science needs the people who aren't there
Rawan Hasan and Charlie Simpson: Teamwork leads to changes in Urban Design and Planning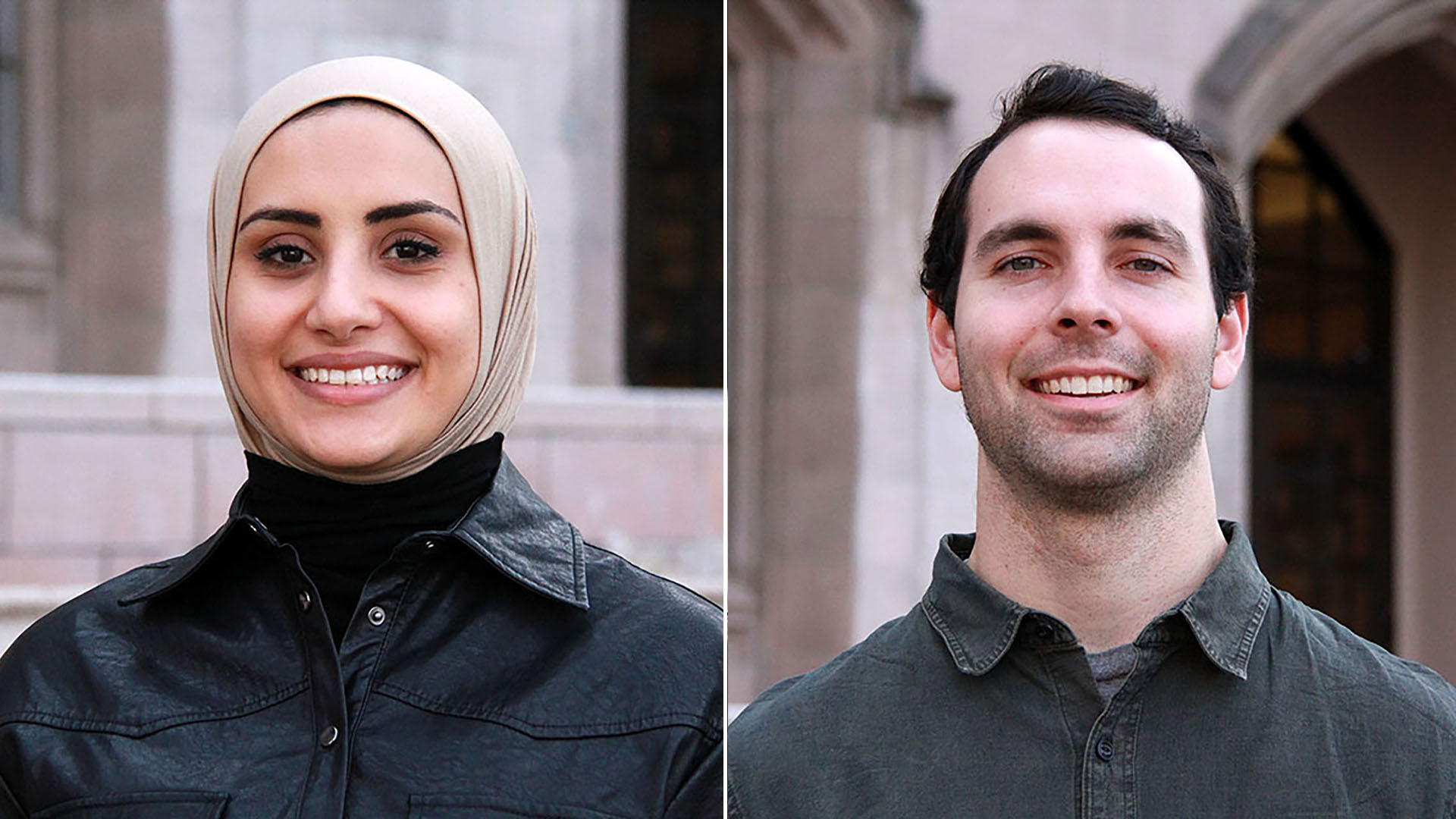 When master's students Rawan Hasan and Charlie Simpson are working on a problem, they know it helps to have a friend. They've been partners for most of their work on the Department of Urban Design and Planning's Diversity Committee, helping assess how students feel about the school's climate and sharing feedback with department leaders.
Hasan's and Simpson's different backgrounds make them a good complement for each other on the diversity team. Hasan, the daughter of Palestinian refugees, grew up in Jordan and immigrated to the U.S. a few years ago. Because Hasan is a minority in her cohort, she can see how systems might not be working for minority students, especially international students and those who have families and work jobs. Simpson, who is white, grew up in Alabama and went to school in Los Angeles before moving to Seattle. While he recognizes he reflects the majority demographic in the field, he wants to use that to advocate for making the program more inclusive of a diverse group of students.
"As Rawan was saying, she came to Seattle, she came to this program and she felt that not many people looked like her. From my experience, I came into this program, I live in this world and think that most people do look like me," Simpson said. "If I care about equitable distribution of resources and different types of people having access to those resources and having a voice and a say in how they shape their environment, then I have to use my unjustly privileged voice and presence to advocate for that."
Members of the diversity committee are assigned different projects based on its new diversity plan. For Hasan and Simpson, their task is to understand how students feel about the climate and culture of the department. Hasan conducted a listening group with international students while Simpson listened and took notes. Then Simpson took the lead on running a listening session with a general group of master's of urban planning students. Then they both met with the department chair and other members of the committee to share their findings.
Some students wanted class reading materials to include a more diverse group of authors. Others wanted the professors to explain acronyms or concepts like redlining that are familiar to U.S. students but not necessarily to international students. Hasan remembered how challenging it was to understand acronyms at the beginning of her studies, even ones some students might have thought easy, like SDOT (Seattle Department of Transportation). For awhile, Hasan thought it was the name of a company rather than an acronym and because no one wrote it down, she didn't know how to spell it to search for it online.
Because of those conversations, the program now includes a discussion about acronyms during an open house before classes begin. Simpson has also noticed more professors talking with their students at the beginning of the quarter about what kind of learning environment they want, and referencing those conversations in class during the school year.
Faculty and staff also play an important role on the diversity committee and share feedback from students with their colleagues. Hasan and Simpson both said the committee wouldn't be able to function without a dedicated staff member — in their case, Graduate Academic Advisor Diana Siembor — who works as a facilitator, providing structure and connecting the different groups of students and faculty who are working on projects.
"I don't think that our diversity committee would be successful without Diana," Hasan said.
"She provides the structure; she moves everything forward," Simpson added.
Hasan and Simpson don't just want to make the program more inclusive; they want the cities they're learning to plan and design to be more accessible as well.
In Jordan, Hasan attended architecture school, but she recognized the privilege she had to do so. Her parents had been able to find work in Saudi Arabia, making enough money so she and her siblings could attend college. But other Palestinian refugees who still lived in the refugee camps weren't able to afford school. As Hasan started attending urban design and planning events, she learned about ways to make cities more accessible and inclusive of marginalized groups and realized her true passion was there.
"I love architecture, but I wanted to do something bigger than just designing scenic buildings for certain groups of people who can afford them," Hasan said. "I choose to study planning because I want to make cities function better by empowering those who don't have voices."
As an undergraduate student at Occidental College, Simpson took a class on community organizing where every student was paired up for a semester with a community group. That helped Simpson learn how inequitable and segregated cities are, and that resources like parks or grocery stores are not equally distributed.
"I started to see that all of the quality of life goals that I had or that I was drawn to personally, not everyone had access to," Simpson said. "So I couldn't just be an advocate for more bike lanes or more parks. It had to be more parks for everyone, safer streets for everyone."
Hasan's advocacy to have a room nearby where she could nurse and pray eventually succeeded when the new dean of the College of Built Environments, Renée Cheng, heard about her work and set aside space in one of the offices. While Hasan was done nursing by then, she's glad other students in the program who need a place for meditation, prayer, or parenting will have that space available for them.
"Even after I stopped nursing and I found my own place to do my prayers, I thought, 'No, it has to change because future students should have a better experience,'" Hasan said. "The new cohort experience has been better than our experience and we hope it continues to be better."
Kayla Chui: Education is a move toward liberation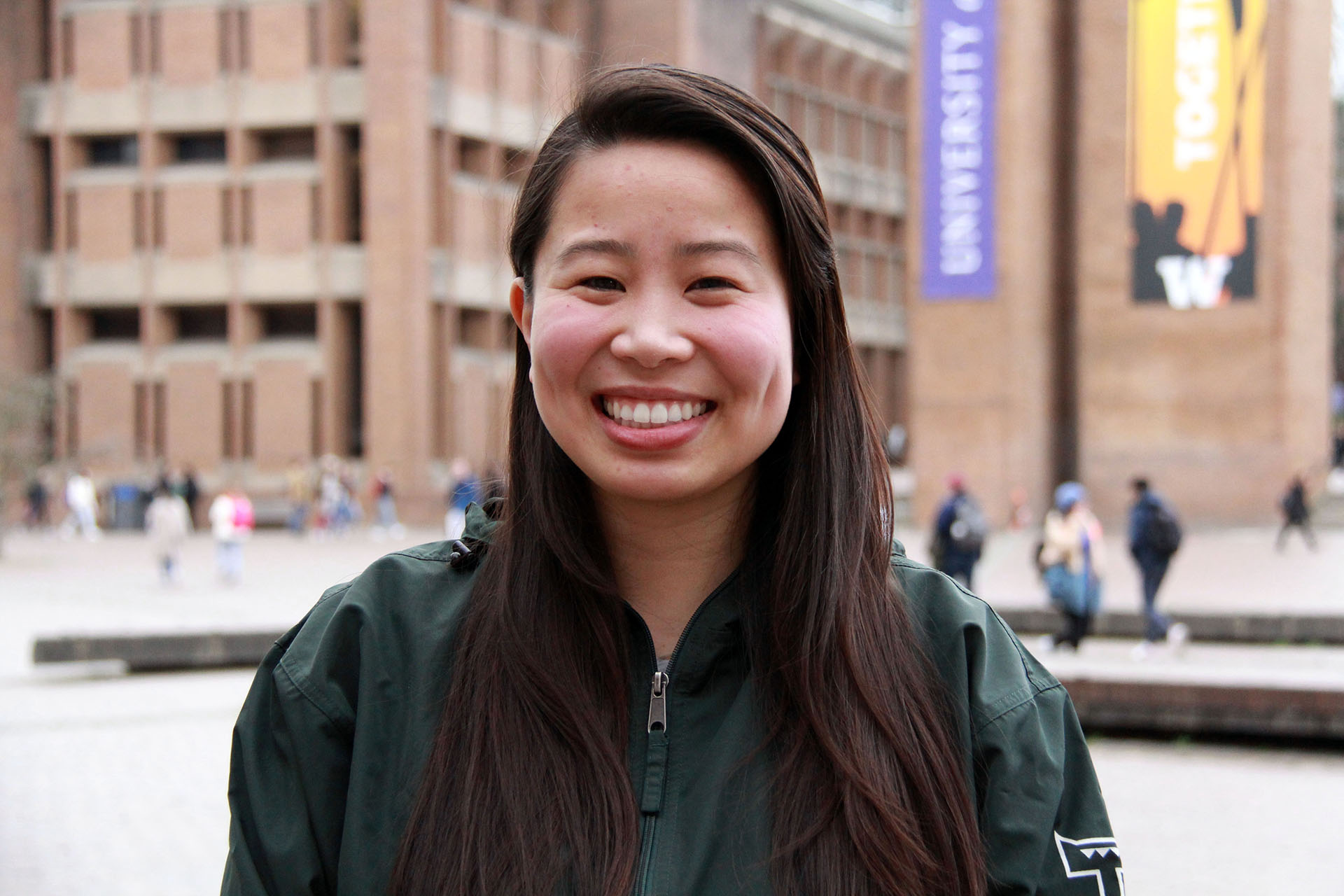 Kayla Chui didn't mean to become a diversity ambassador. She thought she was writing her name on a sign-in sheet for Coffee Tuesday, a weekly event hosted by the UW College of Education's Office of Student Diversity and Inclusion (OSDI). It wasn't until Weijia Wang, an OSDI officer, approached her and enthusiastically thanked her for signing up to be a diversity ambassador that she realized she had written her name on the wrong list.
It turned out to be a good mistake though, as Chui found a home within OSDI where she could help mentor undergraduate and incoming Ph.D. students who had questions about everything from the GRE to how to connect with their academic mentors and advisers. She also found a community to support her as she pursues a Ph.D. studying how culturally sustaining pedagogy looks in communities and schools.
A few years ago, Chui was sitting in a race and resistance course at San Francisco State University when she realized this was the first class she'd ever been in that talked about systems of oppression and movements like Black Lives Matter. "Why am I just learning about this now?" she remembers thinking. After working in a preschool for a year after graduation, she moved to Seattle to start learning how she could make these types of lessons more integral to schools.
"If we think of what the purpose of education is, for me it's to move toward liberation," Chui said. "If that is my goal, then the students I teach — whether it's from preschool to college — can have that become part of their lives."
She's already diving into that work with her fellow graduate students as they develop an Asian critical race studies class for the fall quarter, a class just like the one she wished she'd had growing up. The course will explore how Asians are racialized, perceived, and live in solidarity with other communities. It will also look inward, Chui said, discussing anti-blackness in the community and considering what it means to be Asian on stolen lands. Most importantly, she wants students to understand their identities as a source of strength and power that comes with responsibilities to move towards liberation for all people.
While these discussions are gradually starting to take place more in classrooms, they've been happening for a long time in communities, Chui said. She attends events around Seattle to learn about what culturally sustaining pedagogy looks like in communities, from Asian female comedy nights to urban farming to spoken word gatherings.
It's easy to get imposter syndrome as a graduate student, Chui said, and sometimes feels like she is jumping through milestone hoops and theoretical discussions when she'd rather be focusing on engaging in community organizing spaces. But she receives support from her friends, and other OSDI members who help her sort out her ideas before meeting with a professor, and affirm her belonging in academic spaces.
"What I'm realizing is that I have power," Chui said. "My living experience is knowledge and I can create something if it's not existing already."
Katie Brennan: Advocating for diversity in STEM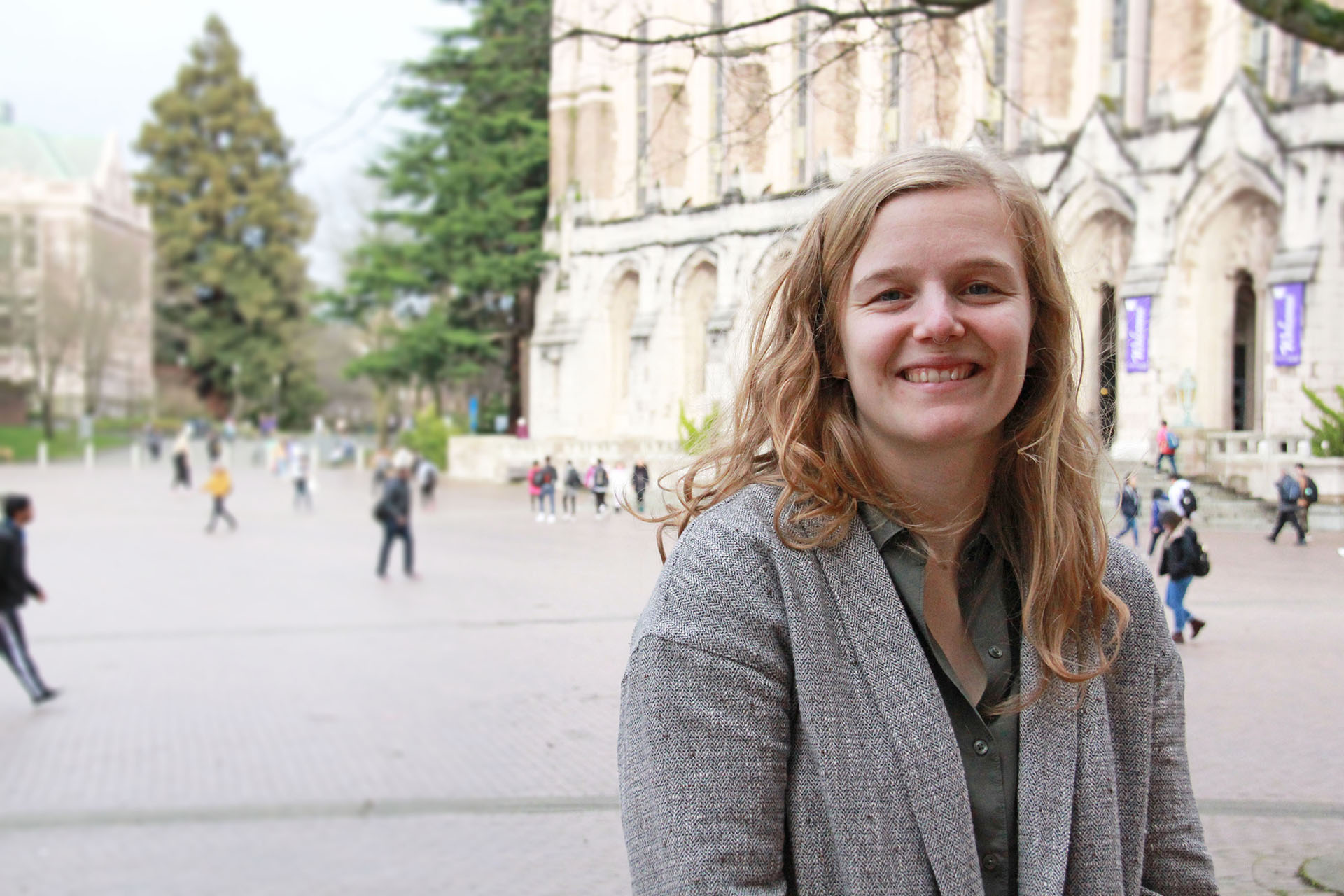 Physics has one of the highest gender gaps of all the sciences, but when Katie Brennan was earning her bachelor's in physics, she didn't want to hear about it. While her mentor would share articles with her about the resistance women face in fields of science, math, engineering, and technology, Brennan initially felt uncomfortable because she was sure by working hard, she could prove she could be just as competent as any man.
But when she started working in industry after graduation, she noticed that some of the themes she'd read about in those articles from her mentor were actually pervasive outside of the small liberal arts college where she had graduated. If she — a white woman from an affluent community — was facing barriers in the field, what were her peers from other backgrounds experiencing?
The question remained with Brennan as she began her doctoral studies in Atmospheric Sciences at UW and helped coordinate the department's student-led Diversity and Inclusion Group, known as DIG.
"I think we need a more diverse population of people doing science," Brennan said. "That's where a lot of creativity comes from so it's frustrating to think of people being pushed out for these systemic reasons that feel like they should be arbitrary at this point."
DIG was started before Brennan came to UW by a group of graduate students in 2015. The group has held mental health workshops, incorporated equity discussions into already existing science colloquiums, hosted a panel on what faculty mentoring should look like for graduate students, and created a mentoring program between graduate students and undergraduates. DIG also organized a three-hour racial justice training and led a movie screening and discussion on the topic of race.
As the College of the Environment started to require more formal diversity committees across departments, DIG developed a relationship with the new department-run diversity committee where DIG would delegate tasks to it. Brennan serves on the department-run diversity committee as well as DIG. That committee has changed the admissions process to make it more holistic and equitable. Before, applications were ranked based on test scores, but now, every application is read and scored based on a rubric so that test scores and GPAs don't dominate the process.
Brennan keeps detailed notes of DIG's work from each meeting as well as its accomplishments and materials developed for each project for the year in the hopes that other students interested in doing similar work will be able to use old materials and build upon them. This is especially important for student-run groups, where knowledge still needs a way to be passed down as committee members graduate.
For other students looking to form diversity groups, Brennan said that every community will have different needs. But something that's helped has been the faculty respect and support for the graduate students leading the effort. It's also been useful to incorporate discussions around diversity, equity, and inclusion within already existing meetings or talks that the department already does. That way, talking about diversity doesn't always require adding another event to student and faculty calendars. Brennan said students on the committee and across the department make the work a team effort rather than letting the burden of planning fall on just one member.
"It's been a community effort, which is what has made it last," Brennan said.
Brennan initially became interested in science because she had trouble reading as a child. While other students wrote off the nonfiction section at the library as boring, she gravitated to it because it was easier for her to understand. Now she's studying sea ice at the north pole and how the amount of sea ice has been changing over thousands of years. She credits mentors, like her female high school math teacher who was an engineer, with encouraging her at an age when young women feel excluded from science or math. Just as mentors encouraged her, Brennan hopes to help and encourage other students confronting systemic barriers in science.
"I would argue these systems are in place because of white people and silence and complacency," Brennan said. "We have to get white people on board to make change and in terms of gender bias we're going to need male allies as well. That's the thing with patriarchy and racism … It's affecting the way we think and see the world whether we admit it or not and in a lot of ways that are not benefiting us."
Brian J. Evans: When it comes to diversity, everyone needs to show up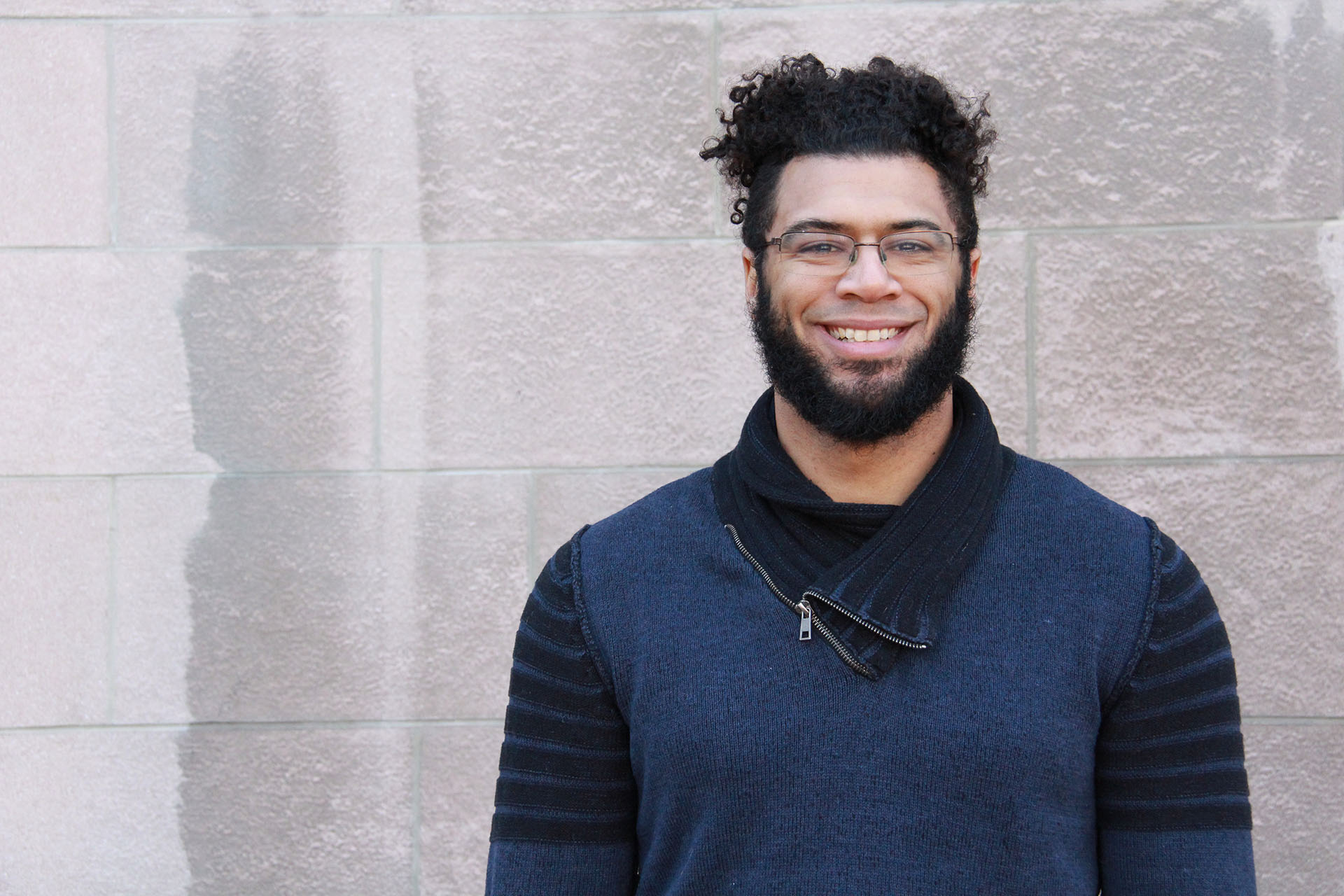 Last year, Brian J. Evans and four of his graduate student colleagues were tasked with leading a talk on diversity during a campus conference. The graduate students, all of whom were people of color, were eager to share their stories and talk about issues of equity, diversity, and inclusion with the UW community. But when the day of the panel arrived, only eight people showed up.
"It was so disappointing and we all felt like, yet again, another time when we put in a whole bunch of work and it doesn't amount to anything," Evans said.
Evans, a Dance master's student who is involved in his dance department's diversity committee as well as other social justice advocacy, is well aware of the reluctance some people have to talk about diversity. It's challenging, messy, and not everyone wants to commit to it. It's a lot like dance in that way.
But for Evans, there's a lot the two worlds can learn from each other. Evans teaches dance classes at UW as a predoctoral lecturer and when his students first start attending class, he can sense their discomfort with moving around the room or forming new shapes with their bodies in front of a group of strangers. But getting them to commit to their movements, to read their partner's body language, to trust someone to catch them, is a lot like how Evans hopes the UW community will start to become comfortable with discussing diversity, inclusion, and equity.
"It's going to be uncomfortable, it's going to be weird, it's going to be just as weird as me telling you to spell your name out with your body," Evans said. "But that specific sort of cognitive reference that you'll start building up is the same that allows you to speak up in a room, that allows you to call someone out when they're doing something wrong, or make your perspective known when it needs to be."
Evans wants to pass on the belief to his students that they have power. But he also wants other people who already hold power to show up for diversity work so the burden of changing unfair systems doesn't constantly fall to the people for whom the systems don't include.
"We could talk about diversity as something to be celebrated, that could embolden and empower your students and make you better teachers but we don't talk about it that way. We talk about it as this super scary thing that we could never solve anyway so why should we try?" Evans said. "You still have to do this work if you want to be the best effective teacher and the best effective student and the best effective administrator and the best effective groundskeeper. It takes all of us to do this and unfortunately it usually falls on the people who are marginalized."
For example, people creating a new academic building might not immediately consider how the needs of students with physical disabilities or the needs of trans and gender non-conforming students impact their design of the structure. Professors assembling a curriculum might not realize that the reading materials they're selecting are only representative of some students' backgrounds.
"They're not bad for not seeing that but it's a problem and it's harmful and it's traumatic and they need to know that," Evans said.
As a mixed race man who is often perceived as black, Evans has watched others forget his humanity in exchange for ignorance and racist stereotypes. Driving through Minneapolis several years ago, Evans was about to move through an intersection when an ambulance came speeding past. He slammed on the brakes but rear-ended the car in front of him. Headed for dance rehearsal, Evans immediately looked down at his dance clothing of grey sweat pants and knew it was likely the driver would see his clothing and race and not his humanity.
When Evans approached the car to ask the white male driver if he was alright, the driver refused to respond, only pointing at Evans and aggressively barking, "Insurance!" Even after they exchanged information and Evans continued to calmly ask how the passengers were doing, the closest he got to being treated with decency was when his car started making sputtering noises and the other driver asked if the vehicle was ok.
"That's one story I've told a few different times because it's so endemic of what it means for people of color to walk through the world and someone points at you and demands things of you and the context of what was happening was no one's fault, but how that power dynamic plays out," Evans said.
Despite these power dynamics, dance and diversity work have taught Evans agency and self-permission. Even after only a handful of people showed up for the talk last year on diversity, Evans and his graduate school peers heard about an opportunity to be published in an anthology about diversity on campuses. They took the materials they prepared for the lecture and compiled them into a chapter about whether anyone is listening when graduate students do this kind of work. Their conclusion was that even if people don't show up, there is power in co-witnessing the work of their peers, of recognizing that, in this daily dance, they aren't alone.
Lucas Vargas Zeppetello: Why climate science needs the people who aren't there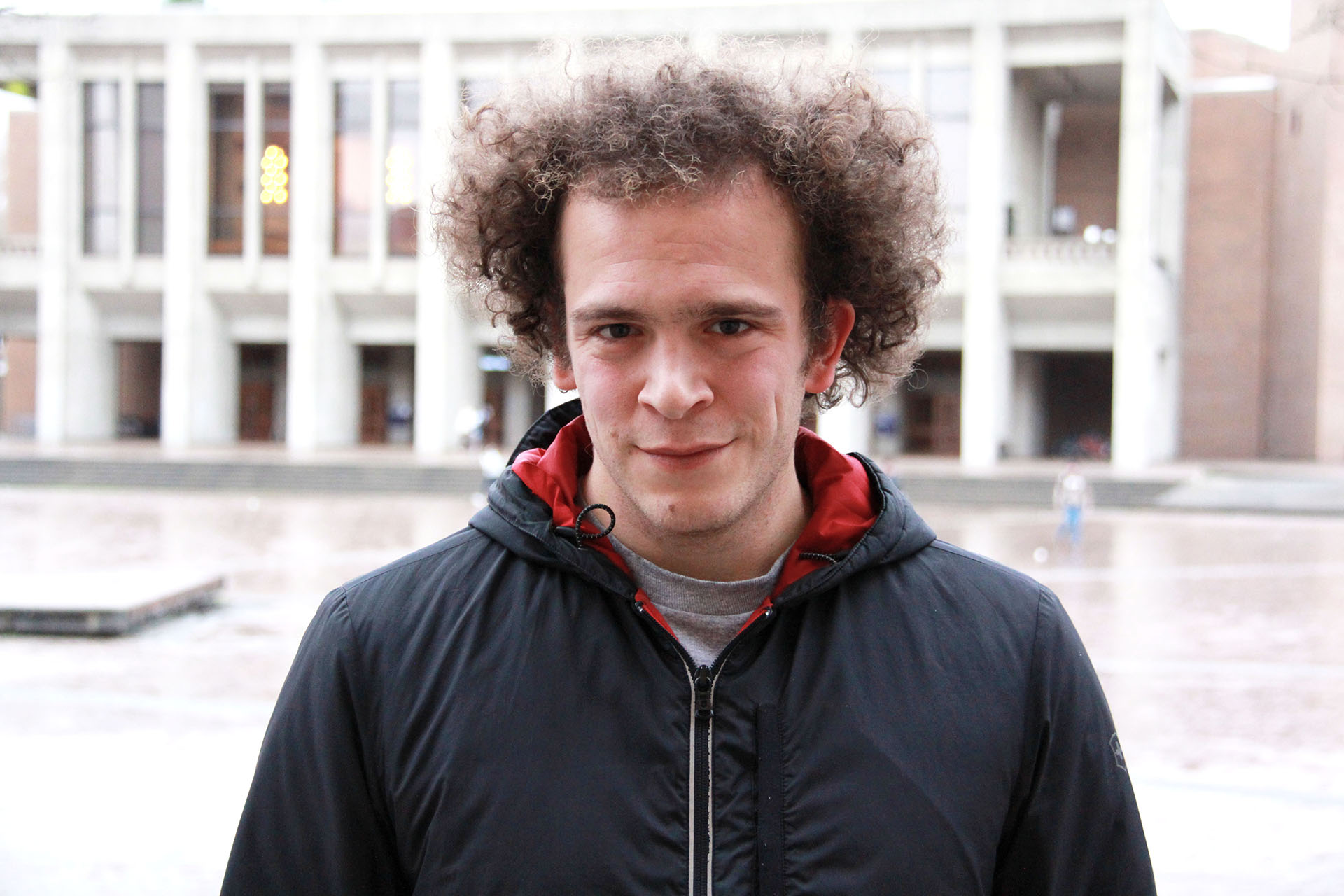 Hurricane Sandy collided with the east coast during Lucas Vargas Zeppetello's first semester at Columbia University. Elevated above the water, the university was undamaged. But when Vargas Zeppetello walked down the hill to the local Fairway Market grocery store on the edge of Manhattan, the parking lot was flooded. Family friends of his in Jamaica, Queens, found their basement filled with water, and a Habitat for Humanity project he volunteered with was still helping affected communities recover from the storm four years later when he was a senior in college.
It was the first time Vargas Zeppetello had witnessed the devastating aftermath of a natural disaster. While the hurricane sparked a discussion on campus and among scientists about whether it was directly caused by climate change, the event inspired him to study environmental science and its connection to real-world events.
As a Ph.D. student in the Atmospheric Sciences department at UW, Vargas Zeppetello is both a scientist and an advocate on climate change. He's found he can lean on his credentials as a doctoral student when talking about climate change in public to give his arguments credibility. But he's noticed that others — those from low-income backgrounds, people of color, women — are not always listened to when they similarly try to advocate for addressing climate change.
That's a problem, as people of color are not well-represented in environmental science graduate programs. But research has found that low-income communities and people from minority backgrounds will be most impacted from the effects of climate change.
"Fundamentally, there's a problem with people not being able to look around and see that the people who are not making it here are the ones we need to have here the most," Vargas Zeppetello said.
Vargas Zeppetello is helping encourage inclusivity and representation in the sciences as part of the College of the Environment Diversity Committee and the Atmospheric Sciences Diversity Committee. The groups have sponsored visiting lectures on topics like racial microaggressions and sexual harassment. They hosted a screening of "I Am Not Your Negro," a documentary inspired by James Baldwin's unfinished manuscript about his friends and civil rights leaders Medgar Evers, Malcolm X, and Martin Luther King, Jr. After watching the film with other students and faculty, there was a candid discussion about race in academia that Vargas Zeppetello said he had never witnessed before.
Talking about issues like the importance of mentoring or the GRE test as a barrier to admission is a start, he said, but more important than implementing specific policies is changing the culture at universities.
"If we don't establish a culture of talking about gender harassment or racial profiling in science, then students who come in dealing with that stuff are never going to feel like they have an opportunity to address it," Vargas Zeppetello said. "The volume of conversations about issues has increased a ton in making people aware. That's a huge victory to me."
Vargas Zeppetello, who is in the fourth year of his doctoral program, studies summer temperatures and how they vary across different land surfaces, questions that are important for public health and food security. But he believes it's important as a climate scientist to not just study, but take action, on these issues. In 2017, Vargas Zeppetello was arrested outside Chase Bank in the U-District for protesting the organization's investment in fossil fuel infrastructure. In a blog post, Vargas Zeppetello reflected on the fears he had around how this advocacy could affect his academic studies, his relationships, or the implications of having a pending case against him as a person with a Puerto Rican last name.
Ultimately, he decided, advocacy for climate change as well as the people who are encouraged to study it, are worth it.
"Students have been supportive of each other, which is the best part of all this," Vargas Zepetello said. "The way we fix the representation problem is by turning the grad school environment into a place where not only do we get more people who don't look like us to show up, but that they stay around and contribute."
By Kate Stringer, UW Graduate School
Originally published March 31, 2020