The most eager philosophy students that Paul Tubig has ever taught live at the Washington Corrections Center for Women in Gig Harbor. His students can't get enough of Paul's lessons, but sometimes, they tell him, they wished they'd never started learning.
Paul knows the feeling. He is a student himself at the University of Washington, a doctoral candidate in the Department of Philosophy. He was recently awarded the Graduate School Medal, an annual honor recognizing doctoral students for their academic expertise and social commitment to their community. Paul has applied his philosophical studies to dozens of real world issues, from neuroethics to disability rights, but it's his work in the corrections center that has been most meaningful to him.
The reason Paul understands why his students say that some days would be easier if they hadn't learned philosophy is because he too has experienced how philosophy can shake fundamental beliefs about himself and the world. For example, Paul grew up believing that never questioning one's faith was a virtue. But studying philosophy helped him understand that questioning one's beliefs and considering alternatives were okay and gave him a more authentic understanding of how he wanted to live.
"Instead of believing things uncritically and being deferential to authority, I have control over what I believe and how I shape myself," Paul said.
As Paul describes it, philosophy requires questioning the stories and ideas people have about themselves and the world: Whether a god exists, why bad things happen, whether people are born bad and destined to commit crimes or whether they have free will over their actions.
Studying philosophy at a university requires a lot less courage than studying it in prison, Paul said, as students reckon with how their lives might have been led differently. But as his students have found, studying philosophy is also liberating.
"For many of these incarcerated students, these women who are now in prison, they have to deal with all of these stigmas which in a lot of ways shape how they see themselves," Paul said. "Studying philosophy helps in thinking that one doesn't have to regard themselves according to these stigmas and it's ok to question how other people have been describing you or labeling you or seeing you."
The students in the corrections center were a teacher's dream: when Paul finished teaching the introduction to philosophy course, they asked for more.
Because Paul was restricted to only teaching classes from the Tacoma Community College course catalogue, he came up with the idea to start an intercollegiate ethics bowl, the first ever at the correctional facility, and to Paul's knowledge, the first ever at a women's prison. He brought in students from Seattle University for a practice round with the students before they competed against the University of Puget Sound's team, debating topics like whether wealthy nations owe a climate debt to poorer countries and if a social credit system in China is morally justifiable.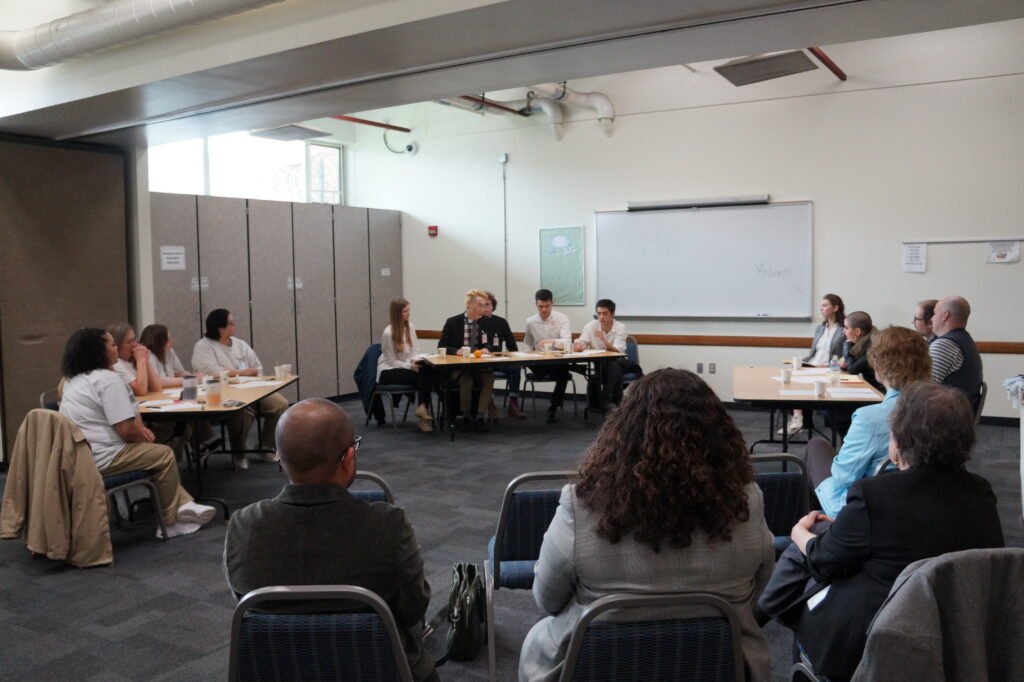 The students loved the competition, but even then, they weren't ready to give up philosophy lessons. They asked Paul if they could participate in the Northwest Regional Intercollegiate Ethics Bowl against college teams in the area, teams which had years of experience, speech coaches, and access to college courses beyond intro to philosophy. But that didn't deter them. Because the students weren't able to leave the prison, Paul helped them participate via Zoom (this was before the time when Zoom became the only form of social interaction for everyone). They spent their entire Saturday of the competition together in one room, discussing ethical problems.
But it's not just the philosophy lessons Paul's students value; it's his commitment to them. Last week, the students from the corrections center wrote effusively about Paul's dedication. They wrote that someone who spends their Saturday nights coaching them deserves an award. They said he never cancels a class, and that the days he has to be out of town, he arranges for another teacher to be there.
When he wins the Nobel Prize, which they're sure he will, they just ask that he remembers them in his acceptance speech.
"Paul modeled the behaviors of everyone's best hope in a teacher," his student Lorraine wrote. "He never judges, he encourages, praises, challenges, and gives continually."
"Paul is one of the most patient, empowering, and encouraging professors I have ever encountered," his student Kathleen said.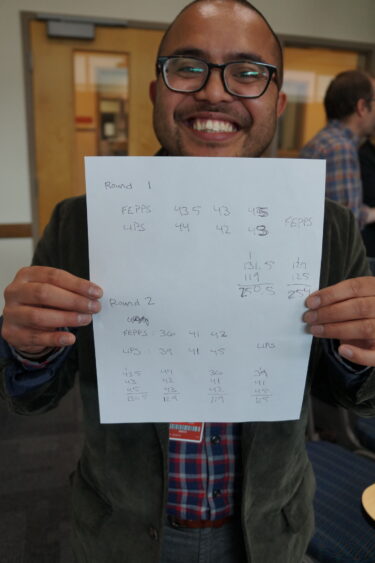 "He consistently asks questions and includes all of us in the discussion or debate so many opinions and thoughts are heard which allows a more colorful and rounded-out picture of the issue and philosophical concepts being discussed," his student Hollie said.
Even after the ethics bowl, Paul was brainstorming ways to give the students greater access to philosophy. Anna Bates, a fellow doctoral philosophy student at UW who also taught at the corrections center, pointed out that many philosophers had spent time in prison themselves, like Boethius, Socrates, and Angela Davis, and during that time in prison wrote about philosophical questions like human nature and justice. Bates and Paul thought exploring this intersection between imprisonment and the history of philosophy would be interesting, especially with the valuable perspectives of people who were imprisoned.
They received funding from the Simpson Center, as part of the Mellon Summer Fellowship for Public Projects in the Humanities, to launch a seminar series on this topic, which, while temporarily on pause because of the pandemic, will collect insight from the students on these philosophical works.
Jennifer Bright, the Executive Director of the Freedom Education Project Puget Sound (FEPPS) which is the organization through which Paul teaches at the prison, admires Paul's devotion and high expectations for his students.
"He is so dedicated to doing this work in a prison context and dedicated to thinking about what are the unique and important perspectives that incarcerated people have on philosophical questions of the day and taking those seriously and relating to the people inside the prison as being every bit as important a contributor to these conversations around morality and ethics as anyone else," Bright said.
It's challenging for Paul to find a topic he can't relate philosophy to. He jokes that's why he is entering his seventh year of graduate school next fall, because there are too many areas that interest him.
In his time at UW, he's worked with the Center for Neurotechnology to develop an ethics dialogue tool for neuroscientists. As researchers are studying new technologies that could have life changing impacts on people suffering from debilitating neurological disorders, they run into important questions, such as whether these developments compromise privacy and autonomy or change someone's identity. The dialogue questions Paul creates aren't meant to tell researchers what to do, but rather, help them have a conversation on some of the issues that might be at play in their work.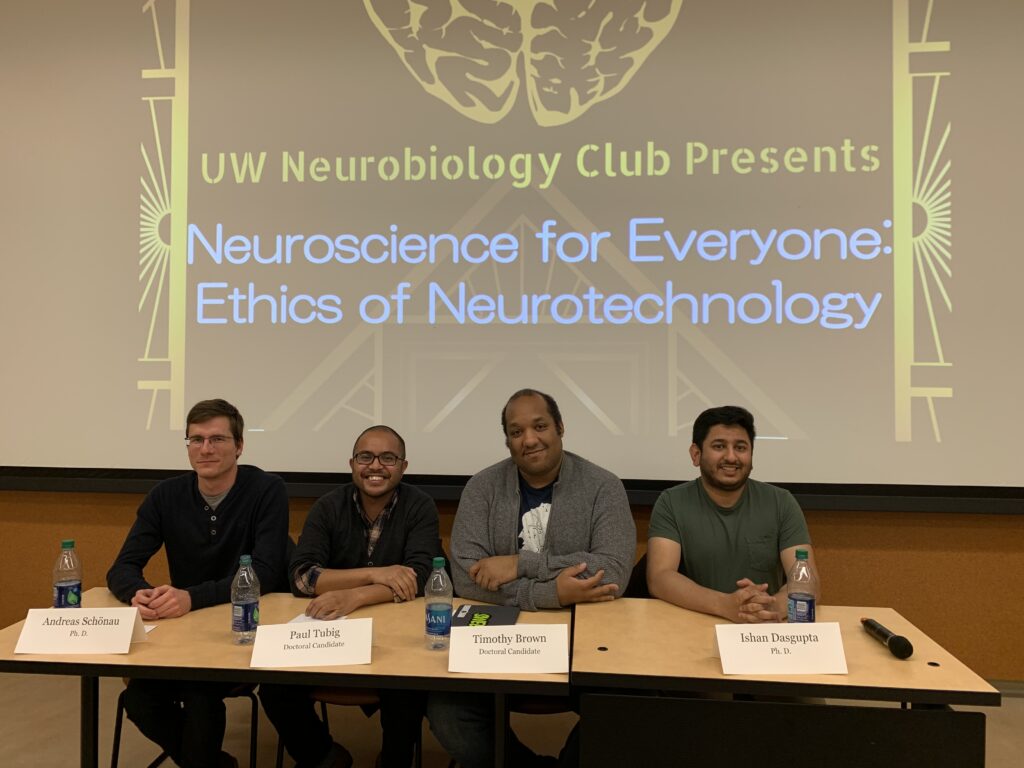 Paul has shared this tool with many researchers at other centers and roundtables, and while he was initially nervous about how the scientists might respond, he said most were positive and very open to having these conversations with their peers.
Paul is also an affiliate member of the Disability Studies program at UW. Paul's dissertation is focused on disability rights, specifically, defending the mere difference view of disability. The mere difference view argues that disability shouldn't be conceived as a disease that needs to be cured. Rather, disabilities are one of many expressions of diversity in humanity, akin to sexual orientation or skin color. But some see this argument as a way to dismantle medical support for people with disabilities, which is why Paul's dissertation will focus on how the idea of mere difference and medical supports are not incompatible.
The innovative ways in which Paul applies philosophy to the world are remarkable to his own teachers, too.
"He is resolute in his belief that philosophy is liberatory, and should find its way out of the academy and into the lives of people who will value and appreciate it as they strive to make sense of the world and contemplate eternal human questions about meaning," said Sara Goering, associate professor of Philosophy and the Program on Ethics at UW who has had Paul as a teaching assistant several times.
For Paul, philosophy is a way to come closer to truth, though perhaps without ever fully reaching it. In a conversation about philosophy, Paul gives it many names: confusing, rational, scary, meaningful, distressing, empowering.
Just like there isn't one easy answer for what philosophy means to Paul and his students, there isn't one easy answer for the big existential questions it asks.
But as Paul has learned, the more diverse perspectives that are included in the conversation, the clearer the truth becomes.
By Kate Stringer, UW Graduate School
Originally published June 1, 2020