UW Graduate School
National Postdoc Appreciation Week (NPAW)
The National Postdoc Appreciation Week in 2020 is from September 21 to 25. At the University of Washington, the Office of Postdoc Affairs, in collaboration with other units, is presenting a series of opportunities to celebrate this week with UW postdocs. We never say this enough – we truly appreciate each postdoc member of the UW community. We appreciate you and value the impact you make at our university!
Welcome Message from NIH
Watch a special thank you video from the Director of the NIH, Dr. Francis Collins, to all of the postdocs and fellows for all of your hard work to move science forward.
Virtual Workshop with the Office of the Postdoc Affairs
The Office of Postdoc Affairs team is leading a workshop on Pathway to Independence for new and continuing postdocs. This workshop will give an overview of strategies to make the most of your postdoc training. You will also have an opportunity to learn about all kinds of resources available to postdocs, gain tips and tools for working with your mentors, and preparing for your future careers.
Virtual Networking Event with UW Postdoc Groups
Please join us and connect with UW postdoc groups. This opportunity is for both new and continuing postdocs to expand your network, get to know other postdoc fellows, and learn more about ways to enrich your life during the current public health pandemic.
Announcement of the 2020 Postdoc Mentoring Award
The Graduate School and the UW Office of Postdoctoral Affairs awards an annual Mentoring Award for Postdoctoral Trainees to recognize and honor the tremendous role postdocs play in student research and training at UW. The patience postdocs demonstrate in spending time investing in students, even while advancing their own research and career, is a model of what we would hope to see among mentors. During the NPAW 2020 celebration, we will be recognizing the 2020 Postdoc Mentoring Award winner, finalists, and nominees.
National Opportunities
National Postdoc Association (NPA)
The National Postdoc Association (NPA) offers daily opportunities for postdocs to engage virtually. The Office of Postdoc Affairs is a sustaining member, so all UW postdocs can sign up for free affiliate individual memberships with the NPA.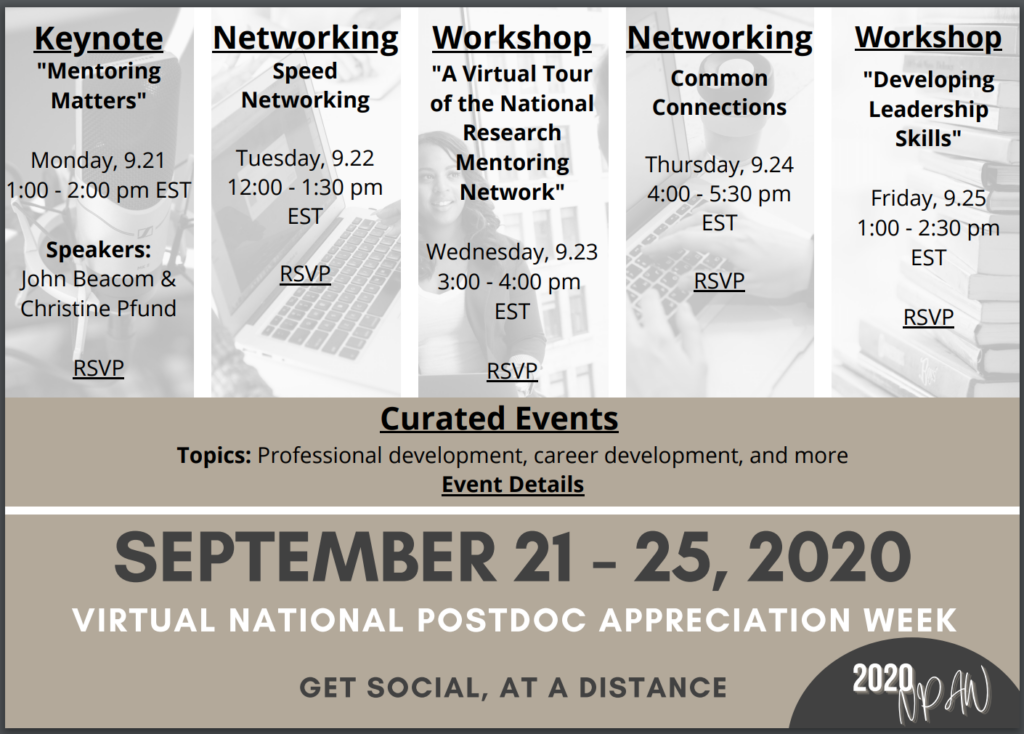 UW Campus Opportunities
UW Postdoc Association (UWPA)
Virtual Coffee Hour @ 9 a.m. on Thursday, September 24.
Virtual Happy Hour @ 5:30 p.m. on Thursday, September 24.
UW Postdoc Diversity Alliance (UWPDA)
Virtual Happy Hour @ 4p.m. on Friday, September 25.
Key Campus Resources (2020)
The Office of the Ombud's mission is to provide high quality, client-focused services for preventing, managing, and resolving conflict at this university. Through active participation in the problem-solving process, clients develop the ability to prevent, manage, and resolve future conflicts.
ITHS promotes this translation of scientific discovery to practice by fostering innovative research, cultivating multi-disciplinary research partnerships, and ensuring a pipeline of next generation researchers through robust educational and career development programs.
The Art of Giving and Receiving Feedback Workshop @ 12 p.m. on Wednesday, September 23. Register online.
The Research Help staff provide guidance with all stages of the research process, including defining a research question, exploring background information, narrowing or broadening a topic, finding appropriate sources, and identifying useful and credible information.
The Center for Teaching and Learning is dedicated to supporting the UW teaching community. Their services are grounded in research, draw on established pedagogical approaches, promote innovation, and are deeply collaborative in nature. They love working with Postdoc instructors, and hope you will find the following resources helpful to support you in teaching this fall: Teaching remotely webpages (note: these will be migrating in mid-September—please check back then for the new link) and Specific teaching topics pages.