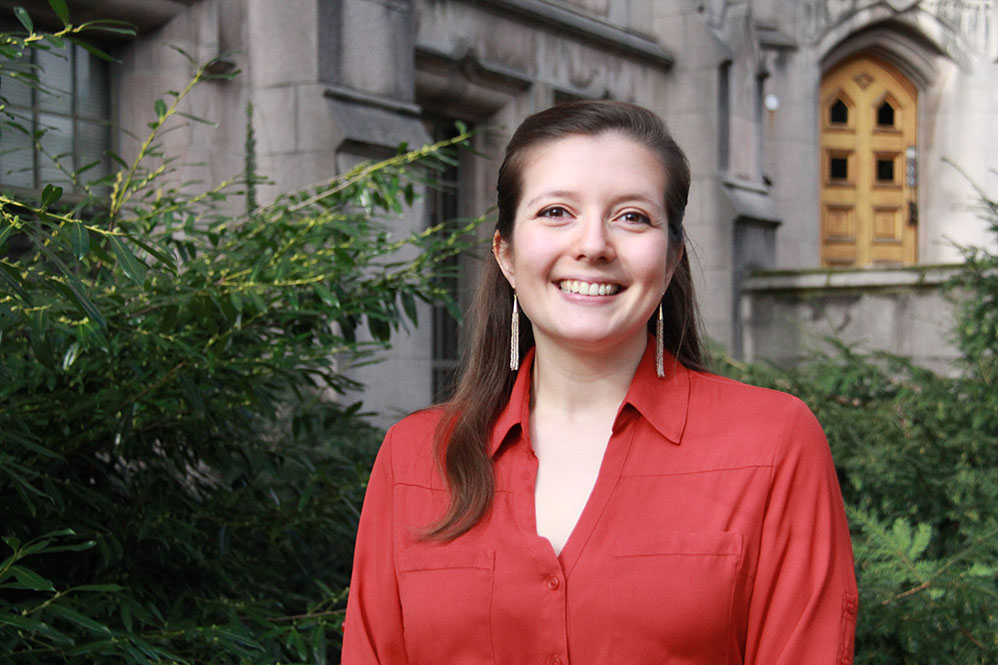 When Linnea Johnson walks through an aquarium, she's not just there to watch sea turtles. She is wondering what the other people watching the sea turtles are thinking. Specifically, are they feeling empathy for the animals, and, if so, are they inspired to help protect their environment?
Johnson knows that museums are storytellers, and the stories they choose to tell can be powerful, from encouraging empathy for people and animals to inspiring others to combat climate change. As a climate justice advocate and a UW museology master's student, Johnson wants to help museums, zoos and aquariums become forces for good by inspiring action on climate change and human rights.
This idea — that museums can and should have a powerful voice on issues like climate change — is mirrored by a larger movement in museology, that museums are not neutral. Many museums are products of colonization and represented the perspectives of people in power. Now, some argue, museums should tell the stories of their diverse communities, especially people who have been marginalized.
"Now what we're trying to do is go the other way and work against that (white colonial) bias and make museums places for community and engines of equity and empathy in the community," Johnson said.
But as a growing movement of museum professionals seek to tell these stories, they also want to know how well they're educating visitors. Johnson is learning how to do that through the study of evaluation in museology, where students learn how to collect data, track engagement, and analyze the results of messages museums are sharing. UW is the only school in the country that offers a specialization in evaluation for its museology master's students.
"It's time for museums to say, 'How can we be vehicles for empathy and understanding so that we can help build a more equitable and sustainable world?'"
At the Burke Museum, Johnson and several other students are putting these evaluation skills to use to understand visitors' experiences in the museum's archeology department.
Large glass doors at the newly constructed Burke building let visitors observe museum professionals studying bones or artifacts. On the weekends, those doors open, allowing visitors to chat with the staff as they're working.
Johnson's role is to talk with and survey visitors to see what they think of this experience. While she and her team haven't analyzed the data yet, Johnson has heard that people feel inspired to see so many archaeologists at work — especially so many women scientists and students in the lab.
Now, Johnson is using her evaluation skills to dive into her own research. She wants to know whether empathy can inspire environmental self-efficacy — the belief that someone can take action to help protect the environment. Through a partnership with the Shedd Aquarium in Chicago, Johnson is using a survey to understand how five zoos and aquariums across the country are inspiring people to adopt beneficial behaviors for biodiversity and the environment.
The best messages to help inspire change offer direct, practical advice for visitors, Johnson said. For example, a sea turtle exhibit might encourage visitors to join a campaign to ban plastic bags, because sea turtles sometimes eat plastic, mistaking the bags for jellyfish. An orangutan exhibit might offer alternatives to palm oil that people can buy, because palm oil production in Indonesia is devastating the homes of the orangutans.
Johnson isn't just interested in empathy as a research subject — her mentors say she embodies it.
"She models empathy and respectfulness," said Angie Ong, lecturer in the museology program and Johnson's advisor and thesis chair. "She wants to hear you and what you have to say. She's intellectually curious about how you feel about things — that's such a valuable trait to have in both graduate school and the field."
Johnson's interests in climate justice grew upon starting the museology program. When she arrived at UW, she attended talks on climate and racial justice led by speakers like Naomi Klein and Ibram X. Kendi, and joined the climate advocacy group, 350 Seattle. She went to conferences that connected climate justice to other movements like queer justice, antiracism, and disability justice. She felt a greater urgency to incorporate climate justice into her work when she learned that significant action must be taken by the year 2030 to avoid the worst effects of climate change, according to a report from the UN Intergovernmental Panel on Climate Change.
"It made it clearer to me than ever that I need to take action in whatever spaces I possibly can," Johnson said. "Climate change is already affecting so many lives and will affect millions of people's lives in the coming years."
So she started a group called Museologists for Climate Justice at the University of Washington for students to engage with issues around climate change. Group members can bring their own diverse passions around museology — from representation to decolonization to sustainability —and discuss how these interests connect to climate justice.
"I think this group provides an opportunity for us to bring that knowledge together and galvanize ourselves to address the greatest crisis of our time," Johnson said.
Museums amplify community work
Johnson has found that the museums she works with are also interested in sharing the perspectives of their communities. Through her internship at the Bill & Melinda Gates Foundation Discovery Center, Johnson helps to hold space for voices that aren't often given a platform. She currently contributes to communication efforts for an exhibit called We the Future, which showcases the stories of local and national youth leaders who are working on issues like gun violence, immigration reform, queer rights, and climate activism. The exhibit was inspired by an education campaign led by nonprofit design lab, Amplifier, which shares these national images with classrooms around the country.
"I know sometimes marketing and social media can seem superficial but really they're the ones putting forth narratives to the community about what their institutions stand for," Johnson said.
The Gates Foundation Discovery Center has reached out to youth programs around Washington state with the goal of featuring photos and stories from 100 local youth changemakers as part of We the Future. These youth are also invited into the Discovery Center to share live talks and performances. Whether it's through press releases or posts on the Center's website or Instagram, Johnson tries to feature quotes from the youth so the community can hear their stories in their own words.
"Every issue you can imagine is represented, ranging from Native American rights to disability justice to empowering women and girls," said Cara Egan, senior community partnerships and marketing/communications manager at the Discovery Center. "Linnea has been able to think about how it can make an impact beyond being in the galleries and will hopefully live on after the exhibit goes away…so we can still be inspired by their stories and know that any one of us could make a difference."
Johnson appreciates that there isn't just one career path she could take after graduation, thanks to the skills she's learned from UW's museology program. She could see herself working in museums, nonprofits, or other agencies, but always with a focus on environmental justice, perhaps as a consultant to help organizations construct meaningful messaging on this topic.
"It's important that the drive to change does not just come from the museum saying, 'What can we do to be relevant?'" Johnson said. "It's time for museums to say, 'How can we be vehicles for empathy and understanding so that we can help build a more equitable and sustainable world?'"
Why Johnson chose UW Museology
It might be the desire to learn other people's stories that led Johnson to develop interests in subjects that might not seem related. Johnson majored in biology at The College of Wooster in Ohio but also minored in English. She wasn't entirely sure what field she wanted to work in — but graduating a year after the 2016 presidential election, Johnson said she felt a need to communicate accurate information about climate science to the public.
After completing her bachelor's degree, she worked as an environmental educator in Cuyahoga Valley National Park near Cleveland, but during a trip with her family to the Harvard Museum of Natural History, something clicked.
Here was a way to combine her love of the natural world with communication: museums.
"I love museums. They light a fire for me, as they are places where this communication happens: the science comes together with storytelling to make these things accessible and interesting to the public," Johnson said.
As she was driving away, she started searching online to see if it was possible to study museums and found the University of Washington's program. Johnson was impressed with its focus on equity and how the program allowed students to explore multiple paths of study.
Learn More About UW's Museology Program
By Kate Stringer, UW Graduate School
Originally published March 30, 2020