Yolanda Valencia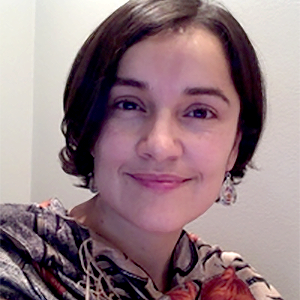 Grad program: Geography
Hometown: Pasco, WA
Undergrad/previous grad institution: Columbia Basin College and Eastern Washington University; University of Washington
Undergrad major: B.A. in Finances. M.A. in Geography
Why did you decide to attend the UW?
I came to UW in order to work with some wonderful geography professors whose work is deeply inspiring–focused on Critical Development Studies, Latin America and Migration, Neoliberal Globalization, etc. Also, UW is considered one of the top universities in the US, and it is relatively close to my community and family in Pasco WA–so I can visit often.
Where do you hope your graduate education will take you?
My dream is to become a university professor who continues to organize knowledge by and for immigrant communities—knowledge that will empower people of color and will influence the way in which policies are written. I also look forward to mentoring and guiding women of color to succeed in higher education, and to creating transformational study abroad programs accessible to students of color.
GO-MAP's* motto is "Graduate Excellence through Diversity." What does this mean to you?
Diversity is not just "add and steer" people of color in to the University. Diversity means transforming the spaces themselves by embracing and cultivating difference through empowering, supporting and taking seriously epistemologies, ontologies and pedagogies of minority peoples including students, professors, staff, custodians and administrators.
Who has been your inspiration or role model?
My inspirations are my two beautiful daughters —Anelsy and Arisbeth—and my young nieces, nephews and my immigrant community in general. My role models are two great friends—who look like me, with whom I relate—who completed their Ph.D. degree a few years ago: Christina Torres-Garcia & Martin Meraz-Garcia. Lastly, I couldn't be here without the support from my caring husband, Armando Valencia,
Please provide one tip you'd like to share with UW undergrads or prospective graduate students.
When you encounter deeply inspiring readings, look for the authors—very likely, they are professors—see in what Universities they are and what work they do. This is a good strategy to create a list of graduate programs to apply to. Also, write them an email conveying your desire to work with them. This could improve your possibilities for admission and opportunities to find wonderful mentors.
*GO-MAP was the name of a program that is now called GSEE, the Office of Graduate Student Equity & Excellence. Learn more.