Meshell Sturgis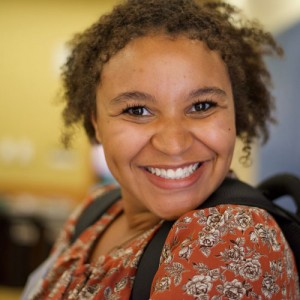 Grad program: Department of Communication
Hometown: Olympia, WA
Undergrad/previous grad institution: University of Washington, Bothell
Undergrad major: B.A. in English, M.A. in Cultural Studies
Why did you decide to attend the UW?
I chose to come to the University of Washington many different reasons! I wanted to be close to my family and to work with the amazing faculty. However, it was the funding from GO-MAP* that truly sealed the deal.
Where do you hope your graduate education will take you?
I plan to be a tenure track professor!
GO-MAP's motto is "Graduate Excellence through Diversity." What does this mean to you?
Graduate Excellence through Diversity means that in order to excel as a graduate student, you must incorporate diversity as a tenet. It also speaks to the role that marginalized and minoritized graduate students play in the larger graduate student body at UW. The collective body of graduate students can only excel through the supporting those make the student body diverse.
Who has been your inspiration or role model?
Ralina Joseph is most certainly my main role model these days, because she has taken a similar path to the one I am on, and she has achieved the goal (professorship) that I am seeking. And above all else, she values that I see her as a role model, which builds upon my own sense of self-worth.
Please provide one tip you'd like to share with UW undergrads or prospective graduate students.
Utilize your resources! This includes our health insurance as graduate students, the Graduate Funding Information Service, and the library!
*GO-MAP was the name of a program that is now called GSEE, the Office of Graduate Student Equity & Excellence. Learn more.