Joylene Aguirre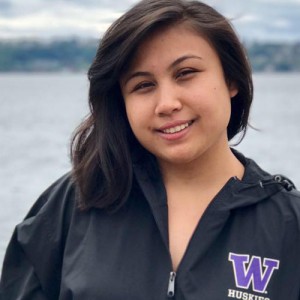 Grad program: Mechanical Engineering
Hometown: San Diego, CA
Undergrad institution: University of San Diego
Undergrad major: Mechanical Engineering
Why did you decide to attend the UW?
I chose the UW for my graduate studies because it has allowed me the opportunity to pursue.
Where do you hope your graduate education will take you?
I hope my graduate education will prepare me for a future at the forefront of research.
GO-MAP's* motto is "Graduate Excellence through Diversity." What does this mean to you?
Diversity ensures that everyone has a voice at the table. This is especially important in academia, where diversity allows us to look at every side of an issue and work together to find solutions to modern questions.
Who has been your inspiration or role model?
My parents have always inspired and supported me to accomplish anything I set my mind to.
Please provide one tip you'd like to share with UW undergrads or prospective graduate students.
Although the graduate school application process may seem daunting, there is a world of resources our there, don't be afraid to ask for help.
*GO-MAP was the name of a program that is now called GSEE, the Office of Graduate Student Equity & Excellence. Learn more.