When it comes to health, disparity is in the details.
Charlton Callender, who recently completed a fellowship at the Institute for Health Metrics and Evaluation (IHME), has been a proponent of digging into these details through his research on maternal mortality rates by U.S. county.
He's found that while it's important to report a national or even state-level maternal mortality rate, analyzing data at the local level reveals a region's unique health risks and disparities.
Callender's master's thesis, which he did in conjunction with his fellowship, was awarded the Graduate School's Distinguished Thesis Award for biological sciences, titled "U.S. national, state and county-level trends in fertility and maternal mortality from 1980-2014."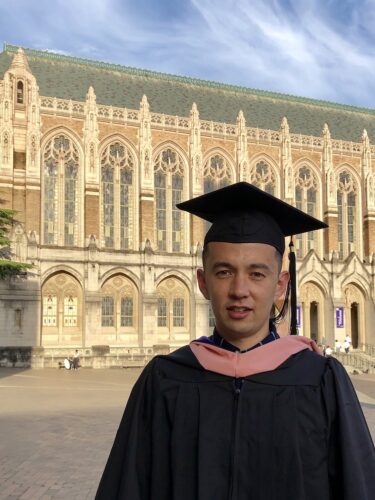 "The reason that it's important to go down to these more granular, spatial levels is because if we just look at the national level or state level, there is some measure of life expectancy or mortality that represents the whole state, but there's often huge disparities between subpopulations, whether that's the county level or by race and ethnicity or income level," Callender said.
In his analysis, Callender found that every county in the U.S. has seen the age of childbearing increase between 1980 and 2014.
Adolescent fertility from the ages of 10 to 19 decreased over that same time in almost every county. But disparities exist between counties. In 2014, some counties had adolescent fertility rates as high as 30 births per 1,000 women whereas others had rates as low as 1 birth per 1,000 women.
Counties also have large disparities in the rates of maternal mortality. While the U.S. as a whole has an estimated 30 maternal deaths per 100,000 births, according to IHME, the rate per county ranges from 10 to over 150 deaths per 100,000 births.
Tracking details become especially important as they reveal racial disparities in maternal mortality, Callender said, with Black, American Indian, and Alaska Native women being two to three times more likely to die than white women, according to data from the Centers for Disease Control and Prevention.
Callender's analysis required a huge amount of work, with enough information for two or three theses in his one thesis, said Laura Dwyer-Lindgren, assistant professor with IHME and Callender's thesis advisor.
"It's really quite novel," Dwyer-Lindgren said. "So far as I know, no one has ever attempted to examine maternal mortality — and specifically geographic inequalities in maternal mortality — in this level of detail in the U.S."
A big question which the data can't answer is why these disparities exist or how to address them, but that's a good question Callender hopes researchers can investigate, using these findings as a starting point.
Callender's work remains unpublished. When it comes to data about maternal mortality, there are concerns about accuracy, Callender said. The data comes from the National Center for Health Statistics, and is gathered from death certificates. Sometimes the cause of death on these certificates is misclassified. Another issue is that, while states are supposed to track whether someone was pregnant at the time of death, not all states consistently do this.
While it may take awhile to fully understand and account for changes in death certificate standards over time, Callendar hopes to work with Dwyer-Lindgren and his other advisors in the future to publish this work.
The work of tracking health by region is part of IHME's Global Burden of Disease work, where the institute releases reports on what health risks affect each country. IHME also tracks health outcomes by county in the U.S., which is how Callender got started on the maternal mortality project.
Callender's path into analyzing health data resulted from trying to find a use for his interests in health, math, and sciences that didn't follow the traditional route of medicine or lab research.
During an internship at the Fred Hutch Cancer Research Center with Associate Professor Trevor Bedford, Callender studied health metrics through epidemic spread at the Nextstrain project. As Callender learned to apply programming and quantitative methods to health, he knew he wanted to find work similar to this.
After graduating from UW with joint degrees in Microbiology and Applied and Computational Math Sciences, Callender began the post-bachelor fellowship at IHME, which allowed him to earn a master's in Public Health through UW. Balancing being a student and full-time employee was challenging, but Callender appreciated being able to connect his real-world experience with what he was learning in class.
While Callender's fellowship ended last year, he is still working with IHME as part of their Global Burden of Disease work, estimating important demographic data for countries around the world. He's passionate about making data transparent and open throughout the process of research, so that other scientists can see and access the work.
While that process takes more time, Callender said transparency brings value to the whole scientific community, as researchers can double check and build off of previous work.
"If you have everything openly available and well documented, people outside of your group can understand it and new people coming on to your team can understand it," Callender said. "It pushes you to a higher level."
By Kate Stringer, UW Graduate School 
Published September 8, 2020